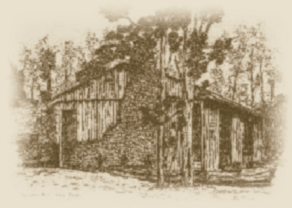 Camp Eureka History
A brief outline about Camp Eureka
Camp Eureka was:
Constructed out of love,sweat and bush timbers by the Eureka Youth League, the Communist Party and the trade union movement, during the period of restrictions on building materials after the Second World War.
The holiday camp for the Eureka Youth League (EYL), a socialist youth group, where many young people, including many now prominent Australians, experienced collective life and planned to change the world to one where peace, equality and economic and social justice prevailed.
After the demise of the EYL in 1968 briefly left unused, with people looking for ways to maintain and enhance the Camp.
Camp Eureka is:
Now maintained, since 1973, by the Camp Eureka Working Collective, a group of people interested in preserving and enhancing this historic inheritance and resource.
75 minutes from Melbourne at 100 Tarrango Road, Yarra Junction. Melway Reference 288 K10.
Available for hire by environmental , social justice, peace, low income and other appreciative groups at very reasonable rates.
Victorian Heritage listed since March 2002.
Camp Eureka has:
Around seven hectares of great natural beauty that has been replanted with indigenous species along the river.
Heritage listed coumminty buildings allowing large assemblies as well as meetings of small groups in a variety of venues.
Rudimentary sleeping accommodation and toilet facilities for around 32 or so people, as well as large areas suitable for camping.
Cooking and dining room facilities suitable for a range of small user groups.
Access to the Little Yarra River that allows recreational use. Various other types of recreational and sporting uses of the site are provided for.
The Camp Eureka Working Collective works to:
Preserve and enhance the heritage of the Camp and the locality, including acknowledging the Aboriginal heritage.
Repsect and regenerate the natural environment.
Provide a comfortable and attractive environment for those who use the Camp.
Pay respect and give support to the people who have contributed to the social movements.
Provide and environment where people feel safe.
Develop the skills and confidence of those who work on the Camp and pass on the care of Camp Eureka to the next generation of the Collective.
Interested in finding out more or joining us?
Contact the Camp Eureka Working Collective Incorporated A0003552W
Marie Goonan, Convener, E-Mail mariegoonan@yahoo.com.au