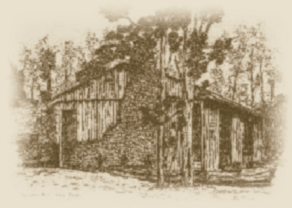 Using Camp Eureka
For Bookings email Campeureka@bigpond.com with details of your intended camp and we will email you an application form.
General Guidelines for Campers
Care for the Environment - make sure the Camp is left clean and tidy.
Huts to be kept and left in clean condition.
Any furniture that is moved must be returned to its original location
Tools and equipment to be returned after use.
Toilet lids must be closed after use.
Young children should be supervised at the creek.
Footwear is advisable at all times.
No camp fires in the restricted period or candles in huts.
Dogs must be kept on a lead at all times.
Pre-visits before confirming bookings are encouraged; visitors are welcome on Collective Weekends see calendar for dates.
The following are provided for campers.
Kitchen fully equipped with:
Electric and wood stoves, cooking utensils, refrigerators and kitchen equipment.
Cutlery, crockery, glasses and mugs.
Tea towels and towels for kitchen use.
Cleaning products and utensils for toilets, showers and kitchen.
Toilet rolls (extra stored in shower cupboard).
The Camp also has:
Recreations Hut with an open fire and Table Tennis.
Massive undercover area in the Mess Hut.
Little Yarra River frontage for fishing and paddling.
Electric light and power in community buildings and most sleeping huts.
Firewood supplied in tanks behind the kitchen.
Laundry facilities including washing machines.
Wood fired hot water service (HWS) for showers and kitchen.
Rubbish bins and recycling facilities.
Unpowered sites for tents and caravans.
What to bring:
All food and drinks (or Woolworths in Yarra Junction).
All bedding and pillows (mattresses provided).
Torch, Gumboots in winter, Tent if preferred.
What to do on arrival:
Light the stoves and HWS for hot water.
Switch on the required fridges.
Sleeping Accommodation
Twelve various sized cabins with beds and mattresses.
Most with electric lights, some with wood heating.
Showers and Toilets
Light hot water services several hours before required to allow time to heat, a good fire at night should give a morning shower.
There are two major toilet blocks near the showers and a disabled toilet near the Recreation hut. All are pit toilets and work effectively if:

Lids are kept shut after use.
You clean them daily with provided brushes and disinfectant.
Wash your hands after use.
Rubbish
Please separate all your rubbish carefully into:
Rubbish bins left at the Camp gate should be taken to the kitchen.
The bin with the green lid is for rubbish.
The large bin with the yellow lid is for recycable cans, plastic, glass and paper.
Do not leave any rubbish at the Stockade. Instead the bins should be left on the roadside beside the gate for pickup on Thursday morning.
Excess rubbish should be taken home or to the Tip in Old Warburton Road Wesburn
When you leave:
Tidy and sweep out all the Huts.
Make sure all the rubbish has been removed from the site.
Clean out the fridges, switch them off and leave their doors open.
Make sure all the lights are turned off.